Year 3

Blackman Class - 3GR Percival Class - 3G
Mrs Green Miss Gore
Mrs Dengate and Mrs Bates will be working within both classes.
Term 5

Welcome back to the Year 3 page! We hope you had a restful break and are looking forward to an exciting term of learning and fun. We hope you find the information below helpful, it should give you an insight as to what your child will be focusing on this term across the curriculum. Our termly newsletter is also attached below with further information as well as key dates. If you have any questions or concerns, please do not hesitate to contact us on the Year 3 email account - year3@kingsnorth.kent.sch.uk.
Maths
We follow 'White Rose Maths'. This term we will be continuing to learn about Fractions, within this unit we will be looking at how to add and subtract fractions with the same denominator within a whole. We will also be finding unit and non-unit fractions of an amount. We will then move on to money, whereby we will be adding and subtracting amount as well as learning to convert an amount in pounds to pence. Below is the Year 3 scheme of learning for the upcoming year. Sometimes we may spend longer consolidating certain topics and the order in which we learn them may change slightly. However, this gives you an insight as to the topics the children will be covering this year.
Key vocabulary: denominator, unit fractions, non-unit fractions, numerator, equivalent, equal, half, quarter, third, fifth, sixth, convert, pounds, pence, exchange,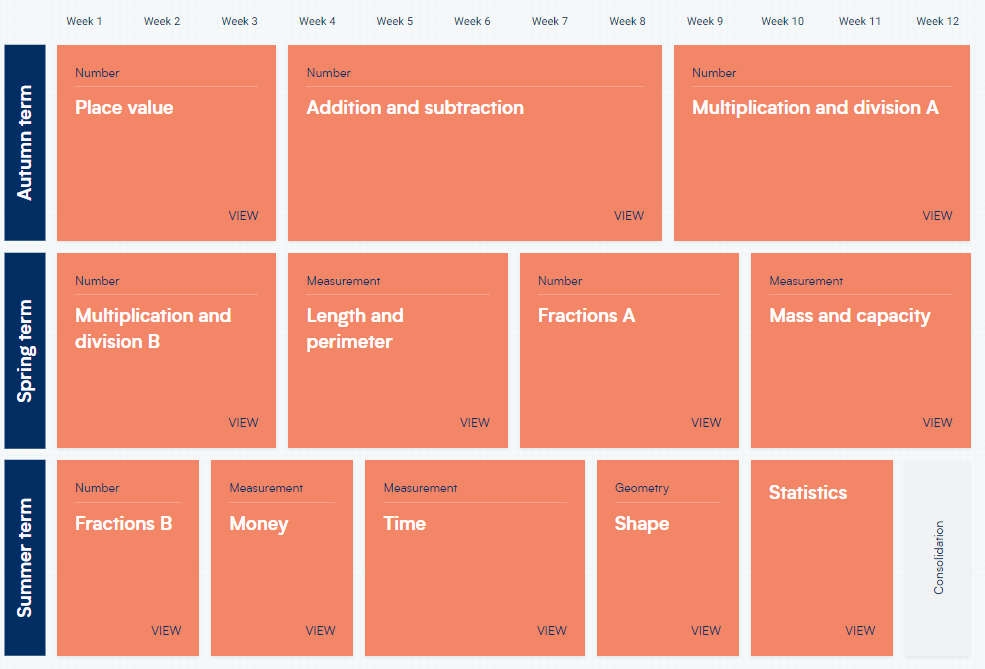 English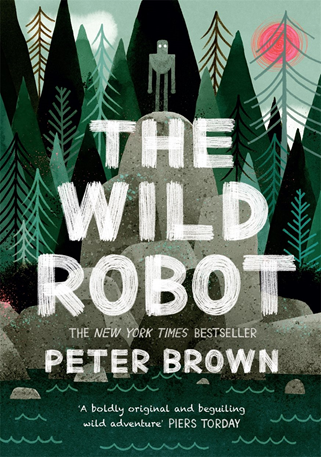 We will be working from the book The Wild Robot by Peter Brown. This is a rich story text about a robot who is accidentally activated, having been washed up on a remote island when a cargo ship sinks. At first the animals that inhabit the island fear Roz, but she soon becomes a significant member of their community. We will be teaching reading at school and have frequent lessons in the week on SPaG, Reading Comprehension and handwriting. Our writing focus for this term will writing in role to create empathy, writing a sequel to our novel and creating a non-chronological report on robots.
Key vocabulary: romp, frantically, skittish, wince, etch, teeming, engulf meander, jutted, dreary, plummet, pulverise.
Science
Our Science for this term will be focusing on Plants. We will be identifying and describing the functions of different parts of flowering plants: roots, stem/trunk, leaves and flowers. We will explore the requirements of plants for life and growth (air, light, water, nutrients from soil, and room to grow) and how they vary from plant to plant. We will investigate the way in which water is transported within plants and learn how to explore the part that flowers play in the life cycle of flowering plants, including pollination, seed formation and seed dispersal.
Key vocabulary: potassium, fertiliser, nutrients, nursery, stunted, chlorophyll, photosynthesis, UV light, xylem, stomata, transpiration, phloem, absorb, anther, stigma, filament, reproduction, style, pollen, nectar, pollination, pollinator, seed dispersal, vulnerable, anchor, germination, sapling, formation.
Physical Education
Our weekly PE session will be on a Wednesday (for both classes). Please note ch ​ildren need to bring their PE kit into school. Please remove earrings before school unless your child can do this themselves. Our weekly PE lessons will focus on Cricket, this will be outside. Our block week is the week commencing 1st May, in these sessions we will be developing our Tennis skills.
Earrings may not be worn during PE lessons. Please remove before school unless your child is able to remove them, themselves.
Religious Education
This term our RE learning is split into two parts. We will begin by looking at the Kingdom of God and answering the key question: When Jesus left, what was the impact of Pentecost?
Key Vocabulary: Pentecost, Holy Spirit, Kingdom, anxieties, worries, bereaved, king, comforter, Fruits of the Spirit, fellowship, Trinity.
History
We will be learning about Crime and Punishment over the years. We will be using photo sources and timelines to help us to infer meaning from historical artefacts, interpret data, sequence historical events and compare punishments in the past and now.
Key Vocabulary: past, hanging, justice, Highwayman, crime, smuggling, punishment, poaching, guilty, ducking stool, innocent, Scolds Bridle, outlaw, execution, vagrancy.
Computing
This term we will become familiar with the terms 'text' and 'images' and understand that they can be used to communicate messages. We will use desktop publishing software and consider careful choices of font size, colour and type to edit and improve premade documents. We will be introduced to the terms 'templates', 'orientation', and 'placeholders' and begin to understand how these can support us when making our own template for a magazine front cover. We will start to add text and images to create our own pieces of work using desktop publishing software. We will look at a range of page layouts thinking carefully about the purpose of these and evaluate how and why desktop publishing is used in the real world.
Music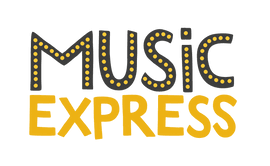 In Music, we will be learning about composition and pitch. We will be using our vocals creatively and expressively as well as using our voices to match pitch.
French
Our French unit for this term is all about Food and Drink. We will be learning simple phrases and how to say food and drink items in French.
DT
In DT we will be learning about mechanical systems. We will be exploring how mechanical systems work and why they are used before using these skills to design our own moving robot.
PSHE (Jigsaw)
This term in PSHE, we are looking at the Jigsaw piece 'Relationships'
In this Puzzle children revisit family relationships and identify the different expectations and roles that exist within the family home. They identify why stereotypes can be unfair and may not be accurate e.g. Mum is the carer, Dad goes to work. They also look at careers and why stereotypes can be unfair in this context. They learn that families should be founded on love, respect, appreciation, trust and cooperation. Children are reminded about the solve-it together technique for negotiating conflict situations and the concept of a win-win outcome is introduced. Online relationships through gaming and Apps is explored and children are introduced to some rules for staying safe online. Children also learn that they are part of a global community and they are connected to others they don't know in many ways e.g. through global trade. They investigate the wants and needs of other children who are less fortunate and compare these with their own. Children's universal rights are also revisited.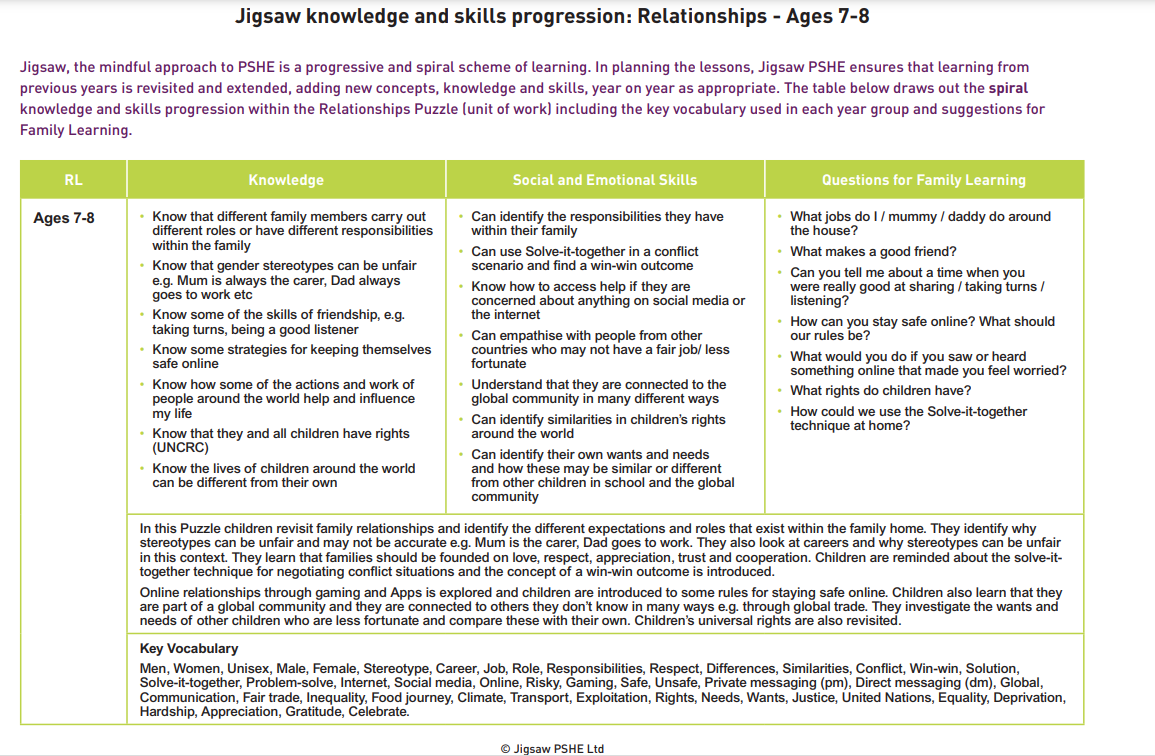 How you can help at home:
https://ttrockstars.com - Encourage your child to practise their times tables. In class, we will begin by recapping 2s, 5s, 10s and 3s.
3 Times Table song: https://www.youtube.com/watch?v=uneATAeac7Q
4 Times Table song: https://www.youtube.com/watch?v=8QU_E0u-tP4
Listen to your child read daily. Ask questions to develop their comprehension and inference skills.
Spelling Shed - - spelling practise, we will assign a spelling rule for children to practise at home. We will be practising these in school too.
Online Safety for your child.
Please click on the link below to access advice on how you can keep your child safe online, including a helpful tool to support you in having the right conversations about online safety. Also included on the site are a list of activities that you can do with your child at home.
https://www.thinkuknow.co.uk/parents/Support-tools/home-activity-worksheets
Reading skills:
There are question mats and reading skills sheets attached to the bottom for any learning surrounding reading.
Go to https://connect.collins.co.uk/school/Portal.aspx
Click on the Teacher portal and enter
Username parents@harpercollins.co.uk
Password Parents20!
And click Login