About the Leading Parent Partnership Award
The Leading Parent Partnership Award gives schools a coherent framework to deliver effective parental engagement across the whole school.
Through this award, schools can meet a number of longer term success criteria, such as improved pupil progress, punctuality, attendance and behaviour and increased parental involvement in school life.
Using an evidence portfolio, school leaders can easily demonstrate, to Ofsted inspectors and other stakeholders, that the school has an outstanding and sustainable programme for parental engagement.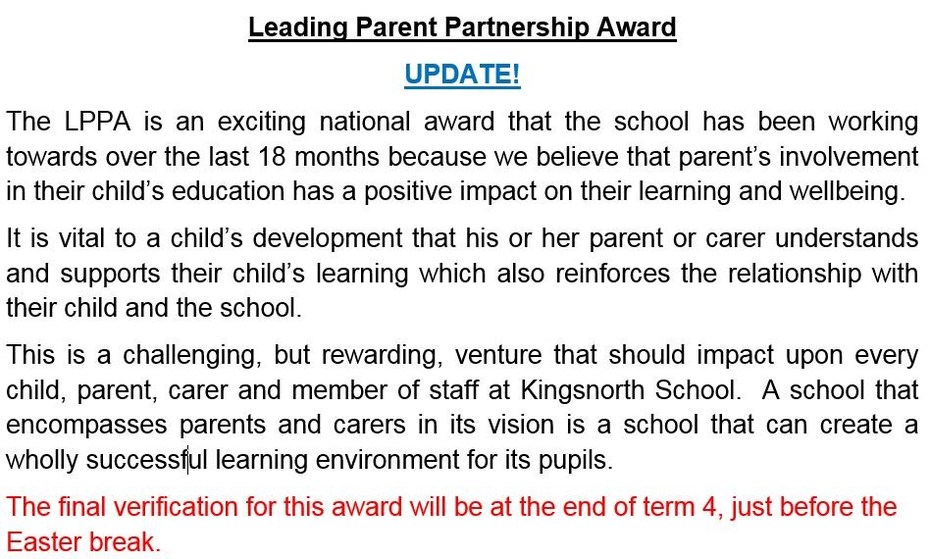 Mrs Jones (FLO - Family Liaison Officer)) and Mrs Roach (RE Leader), liaise very closely and work very hard to ensure that we provide a variety of opportunities for our parents and the wider community to engage with 'school life' and to feel that they can be proactive in decision making and to feel a bigger part of our school community.
We regularly seek feedback from parents and carers, whether that be through questionnaires, meetings/open evenings, parent forums/groups, coffee mornings or through regular informal contact in school or at the school gate every morning. This is all part of our school values and ethos, in wanting to create an open door policy within our friendly and caring school.
If you have any questions or queries, please do not hesitate to contact Mrs Jones via the school office.