150th Anniversary
Last Year (2016) we celebrated our 150th Anniversary!
18th May 2016 will be the 150th anniversary of the first pupil walking through the doors of the school house in Kingsnorth.
We are keen that the children, staff, governors and wider community celebrate this very special occasion together in the most memorable way.
Education in Kingsnorth was taking place even before the old school building opened... the boys were educated in the Church by the clergy – and the girls not at all before then.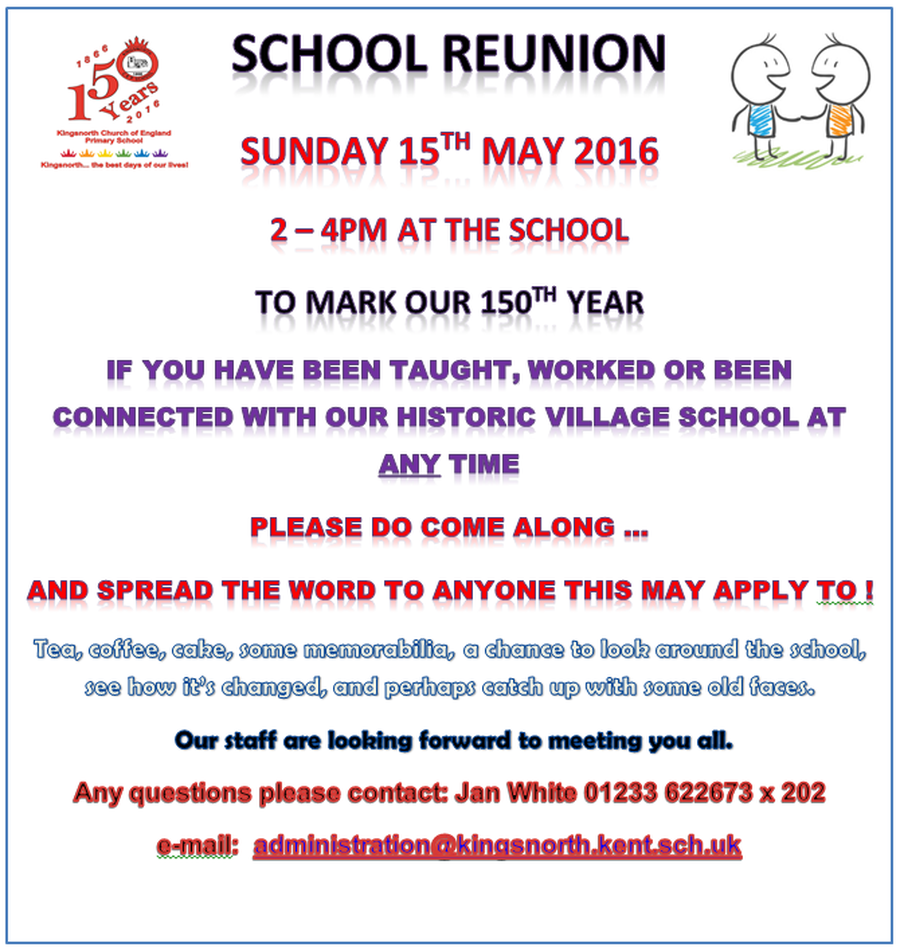 Our 150-year celebrations – update - May 2016
Plans for the events and activities for the school's 150th year are gathering pace, making for a very busy couple of months ahead, ensuring everything is organised and in place. We continue to advertise our 150th anniversary events with the children, parents, staff, governors, local and church communities. We are submitting photos and reports to the local press and via the Parish Magazine wherever we can to raise the profile of Kingsnorth School in this most important year. We also promote ourselves and our 150th year via social media.
The 150 Steering Committee has been meeting regularly to discuss, agree and monitor all aspects of this.
School Flagpole/Flags: At last we have received formal planning permission from Ashford Borough Council to fly our two bespoke school flags! This has taken many months but we are pleased and proud to see them displayed outside the front entrance. We have been able to fly all the national flags on particular days with no prior approval needed. The flagpole and flags have been kindly funded by Councillor Paul Bartlett via his member's grant.
The Wildlife/Sensory/Spiritual Garden: To be situated adjacent to our present pond area. This is our main project for 2016 and has been a much bigger undertaking than originally anticipated. School staff have agreed upon a design for this area of reflection for the children, staff, and local communities. This will include a hexagonal "prayer labyrinth" around the mature horse chestnut tree, with a specially built hexagonal seat in the centre. This will be situated in the quietest corner of our wildlife area, a perfect place to view the wildlife already present, chat, read, reflect, pray - in sight of the Church, with additional plans for large pots of sensory plants. We are working with the local Church community who have offered help with the project and the future upkeep of the garden area. We hope that the Church will be able to make use of the area too. We have taken a little advice from an "expert" in laying labyrinths – it is extremely costly to employ such an expert to carry out a labyrinth project, but we are confident that we have found a simple but effective design that we can install ourselves.
As part of the labyrinth we are having a 6ft wooden cross made by a local chain saw artist, incorporating newts, birds, ladybirds, bees, flowers and leaves. We hope this will enhance and focus the meaning of this spiritual area.
We also have plans to install raised planting beds for sensory plants, incorporating some seating, and are grateful to our Site Manager and new Caretaker for their expertise in building these. The wood and materials for the seating/planters has arrived and work has commenced. We are also really pleased to have obtained a wooden boat as a focal point for a small "beach" area, with driftwood, shells, etc. as another area of interest.
We plan to install Rev McLachlan's "storytelling" chair behind the present willow dome, and make some wooden benches for the children, thus creating a space for classes to go outside and read, listen to stories.
The pond was cleared as part of the tree surgery carried out in September, and by enthusiastic work during our "Ground Force" Day in October. We will make a feature of the pond as a point of learning for the pupils – the pond supports rare great crested newts and slow worms. We plan to install an information board about our great crested newts on the pond fence using child-friendly language. We have had a new, good quality fence installed around the pond and at the boundary between the school and our neighbours in Church Lane to make the area safe, but still allowing access for maintenance, and a good view for those using the garden.
We have had offers from the church community of help, and hope they are going to produce some "bug hotels" and bird boxes for our garden.
There is also a possibility that a team of pupils and staff from Homewood School may be able to help with some ground clearance and painting of the old metal container in the garden.
The school has been working hard to raise funds for our 150th projects, and in addition to member grants from four local councillors, (Cllrs Bartlett, Hicks, Heyes and Shorter), we were delighted to have been chosen from 3 local green spaces projects, via a public vote, to receive a £12,000 grant via the Tesco "Bags of Help"/Groundworks UK scheme. Under the terms and conditions of the grant we now understand that the funds will not hit our bank account until August/September, but it will be an enormous boost to our fund raising, and make our plans easier to realise. We are strong in our resolve to install something that looks attractive, is of good quality, and that will have real use and purpose – a legacy that will be opened in our 150th year, for the children to use for years to come.
We will be holding our annual Fun Run on 6th May, where we hope that money raised can be put towards the 150 celebrations too.
The PFA committee has been very supportive and provided a presence at our steering committee meetings. They presented us with a large cheque for various agreed purposes throughout the school, for the benefit of all pupils. For our 150th celebrations, they will specifically be funding the seat in the centre of the labyrinth and a special commemorative mug for each child. These were presented in February showing our bespoke school 150th logo and their individual photograph. These have been really well received by both parents and children. Staff and governors also have a mug each.
We are still hoping to work with Dobbies on both the Wildlife and Front Gardens, for assistance with resources and plants but are not sure they can now help in the way we would have wished. We have asked parents and the community for help by publishing pieces in the press, newsletters and parish magazine, and this has resulted in help with carpentry and the offer of a large amount of manure!
The Front Garden: We have cleared the untidy shrubbery adjacent to our Old Building and will install a raised bed depicting 1 5 0 in bedding plants for this year. We will also lay some turf and create a couple of small flower beds for some specially named Kingsnorth anniversary rose bushes. We feel this will enhance the frontage of our building and the flower bed can be planted each year by the children.
An Aerial Photograph – 20th or 23rd May: We have met onsite with Simon Rodgers of AV Creations, who will be using his licensed "drone" to take some aerial shots and video footage of the school. We have two dates set aside in case the weather is inclement. More importantly we have now to work out how to arrange 420 children in a massive "1 5 0 " on the school field for our 150th anniversary "shot". It will recreate a similar exercise that we carried out in 1997 when the new school building was opened. Any governors are welcome to come along and help with crowd control and enjoy the experience!
A school tie: Our first order of school ties arrived earlier in the term, and have been a great success. These bring in all 6 colours of our school "houses" on a red background. Many of the children are now wearing this smart optional uniform item with pride. Adults ties are also available. Although the tie has been created for our 150th year, we may now consider making it a permanent, optional, part of our school uniform. We are also selling hair bands and scrunchies using the same weave as our ties.
A "School Reunion" on Sunday 15th May (2 – 4pm) to include anyone who has attended or worked at Kingsnorth School – any age! Look out on the school's Facebook account where a page created for this event has already been visited many times. We hope to display some school memorabilia, so if anyone has old photos from their time associated with the school, or knows of anyone who would be interested, please let us know. We have unearthed some old head teacher log books, roll books and photos in school, and have copies of the original 1866 Trust Deed and Land Registry documents on display in the school entrance. We have also been given permission to borrow more original log books and the original 1866 Trust Deed from County Archives, under strict handling conditions. The press and local publicity we have had recently has resulted in two or three past pupils getting in touch with fascinating accounts of school life at Kingsnorth in the 30's, 40's 50's and 60's. We will be using their memories to add to our school memorabilia displays and they have special invitations to the Reunion.
Formal invitations have been designed and will be sent to as many ex members of staff, governors etc shortly. We are hoping that social media and word of mouth will mean a full school building on 15th May.
All governors are welcome to join staff and guests on the day.
Wednesday 18th May: Our actual Anniversary Day. We plan a simple Balloon Release with each class sending a couple of balloons up to mark a momentous day. There will be a prize for the class whose balloon travels the furthest. Arrangements for this are being researched.
A Victorian "dress up" day, with special class photos - Monday 20th June 16: All staff and children will be asked to dress in Victorian style for the day, with special group photos outside the Church.
A Victorian Country Fayre – Sunday 26th June: – as the culmination of our 2016 celebrations we will be working closely with our PFA committee to hold a Victorian style, old fashioned fayre, and hopefully to officially open the Wildlife Garden. We have had to change the original date of the Fayre, due to clashes with other school fetes and a large ticketed event in Maidstone. We would love to have someone famous or notable to officiate and are "on the case" with this. The Fayre will start earlier this year, probably around 11.30am and end earlier in the afternoon. It will be held in and around the school grounds rather than on the field, which we hope will give the event an additional interest as visitors go around. We will have school memorabilia on display in the Old Building and plan some more traditional side stalls. Attractions will include maypole dancing, the school choir singing "Oliver!", a hawking display (courtesy of a member grant donation from Aline Hicks) and the Woodchurch Morris Men.
We are grateful to the PFA for their support for the theme of the Fayre this year.
Jan White
Chairman of 150 Steering Committee
Flag Raising for 150th year
A special inauguration ceremony was held at Kingsnorth Church of England Primary School to dedicate a new flagpole and bless two specially designed school flags.
Canon Gilbert Spencer officiated at a short blessing, watched by staff, pupils in Year 3 and members of the School Council.
One of the school flags has been designed by Brooke Murray, in Year 3, to commemorate the school's 150th anniversary year in 2016. Her prize for winning the design competition was to be able to lift her own flag, the very first to ever be raised on the school site. The flag will fly at the school entrance for the rest of the year.
Kingsnorth School is at the beginning of a year of celebrations, which will include a school reunion on 15th May, a Victorian Fayre in June, and the opening of a Wildlife/Sensory/Spiritual Garden in the summer.
Any questions regarding the school's celebrations and events should be directed to Jan White – Office Manager : administration@kingsnorth.kent.sch.uk 01233 622673
Our 150th Anniversary Thanksgiving Service
On Friday 29th January 2016 we held our Thanksgiving Service in the school hall. The service, arranged by Mrs Roach, with the Bishop of Dover, the Archdeacon of Ashford and Rev'd Canon Sheila leading various aspects. We had many guests visit and be part of this amazing spectacle! Just the first of many events for this very special year.
Please see below for a selection of photos from the day.
Our 150-year celebrations – plans forging ahead!
We are making progress with plans for our 2016 celebrations, when Kingsnorth School celebrates 150 years of education on our school site.
The Wildlife Garden: Our biggest project will definitely be the planning and preparation for our Wildlife/Sensory Garden. This will be an area of outdoor learning for all children at our school, both for now and the future. It is an area we are very keen that the children can use not only as part of formal lessons, but also casually – perhaps at playtimes and lunchtime – an area where they can sit quietly and watch the wildlife that is already there. Somewhere to plant, sow , grow and enjoy the sunshine and shade. We have already consulted Kent Wildlife Trust and a local ecologist, and hope to forge links with Tesco and Dobbies too. We are delighted to have the support of Santander, who are presently applying for a grant for us to help with the cost of this far-reaching project. The pond that is within our planned Wildlife area has had evidence of great crested newts confirmed… these are a highly protected species and we are lucky to have them. We will be sensitively maintaining their habitat as part of our plans.
We will be calling for voluntary help from parents, friends, staff and the local community in the autumn, when we will begin the hard ground work required to clear the re area. So, if you fancy bringing your families and joining in a working party, watch the weekly school newsletter for a plea for help! Anyone who has equipment and/or experience with groundwork would be very welcome for advice too. If you are interested in seeing the pond area, just contact the school – you are welcome to have a look.
Other things we have planned:
A thanksgiving service in January/February
A "School Reunion" on a Sunday afternoon in May to include anyone who has attended or worked at Kingsnorth School – any age! Look out on Facebook for details of this nearer the time.
A Victoria Country Fayre – Sun 26th June – as a culmination of our 2016 celebrations and hopefully to officially open the Wildlife Garden. We would love to have someone famous or notable to officiate but this is proving difficult!

Installation of a Flagpole

A Victorian "dress up" day, with special class photos

A special photographic display
If you, or anyone you know, has any photographs or memorabilia of the school over the years, please let the school office know.
Watch this space for more updates!
On 29th September a special organising committee was convened for the first time. It includes representation from the Church, the senior leadership team, office team, governors and local/borough council. Pupil members of the School Council will also be involved in future planning and the Parish Council will also be invited to be part of the planning. At this meeting we began to outline ideas to inspire and enthuse around the 150-year celebration.
We have big plans to try and create an area within the school grounds that will remain as a reminder of this occasion. This is very much in the early stages of planning.
What we can tell you is that there will be events and curriculum activities for the children starting from September 2015, culminating in a week of special activities and a big celebratory day for the whole community on Sunday 26th June 2016.
Is there anyone out there who is a landscape gardener, or knows of one who might want a project? Perhaps a student learning this craft? Please contact Jan White in the school office if you know of anyone who could work with us.
Comments (0)
There are currently no comments.