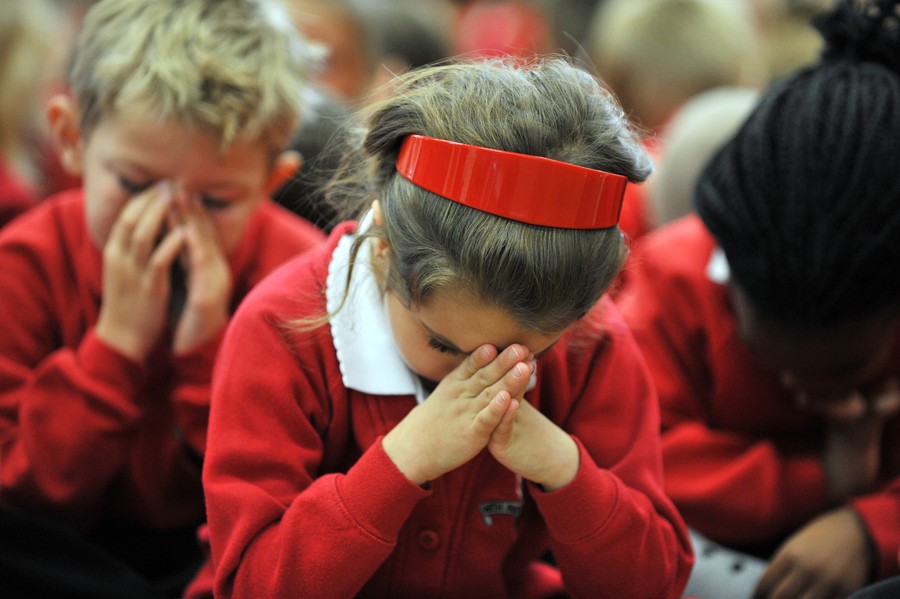 The school's aims, as detailed in our prospectus, are underpinned by a commitment to guiding our children to an understanding of the Christian faith. We aim for them to leave us, having started on a spiritual journey that will enrich their adult lives. The motto on the school sweatshirts helpfully reminds us that with faith, we endeavour to achieve. This reflects the Christian context in which all our pupils strive to make progress and enjoy forming encouraging and supportive relationships.
Consequently, the atmosphere of Kingsnorth is unique, often commented upon by visitors to our school. Behind this lies the consistent and valued place of Collective Worship as a whole school community. We meet for worship daily as a whole school and are led by all staff members in turn, incorporating the reading of the Bible and a modern song or traditional hymn. Pupils begin and end these times with words for gathering and sending the school community, often contributing prayers or using the official School Prayer written by the children themselves.
A team of pupils set up and operate all necessary audio visual equipment for Collective Worship, giving them ownership over these special moments in our day and the responsibility of teamwork.
There are many highpoints in our Worship calendar; Holy Communion is celebrated at the end of each term, led by the vicar from our neighbouring Church of St. Michael and All Angels, Kingsnorth. Weekly Achievement Assemblies reward pupils nominated by staff for their contribution to school life. Whilst not necessarily academic, this provides opportunity for celebration of development of the whole pupil and qualities of Christian character. In addition, a monthly carousel of Assembly activities enables pupils to choose their own expression of worship including art, prayer, reflection, singing, Bible stories and discussion groups led by staff. The close links we have with our church also give children in Years 4, 5 and 6 the opportunity to worship in a different space once each week, led by our vicar and school staff.
Any parent has the right to withdraw their child from Collective Worship on religious grounds. Please speak to the Headteacher if you have any questions about this.
Questions and reflections from Collective Worship
These will be available weekly and addressed in class as well as during whole school Collective Worship. Please feel free to chat further with your children about them.
Monday- What kind of 'you' are you going to be?
Tuesday- People help us in all different ways- can you focus today on recognising their kindness and remembering to say thank you.
Wednesday- Individual liberty is a British value that means we have the freedom to make choices. We can make the right choices with our friends.
Thursday- Individual liberty means we have the freedom to make the right choices- but this sometimes isn't easy.
Our Christian value of compassion can guide us- we can be just like the Good Samaritan.
Friday- Individual liberty links with thankfulness as we have help to make the right choices, so we must also remember to say thank you to them.