Admissions
Our school is currently working through the process of consultation of our school admission policy. We are working closely with the Aquila Trust and look to amend our over subscription criteria.
For more information please follow this link.

The School admission process is handled by the Local Authority Admissions team. Applications for new entrants are usually made during the winter, prior to their entry.

Admission is according to the Local Education Authority's criteria, i.e. Looked After Children, siblings, and distance from school. We have been heavily oversubscribed for Reception class places in the last few years, but are only able to offer places to 60 pupils in each year group.

New entrants are normally admitted to school in the September of the school year in which they become five years of age. When Reception children join the school it is usually on a part-time (1/2 days) basis for the first 1 – 2 weeks and we conduct Home Visits early in the first couple of weeks to enable children to settle quickly and enable their teachers to have a full understanding of each child's learning needs.
After you get your school offer
http://www.kent.gov.uk/education-and-children/schools/school-places/after-you-get-your-school-offer
Please complete the form below:
To be put on a school waiting list, please complete the form below:
If your child is due to start primary, infant or junior school in September 2017 and was offered a place on 18 April 2017 you need to accept or refuse the offer. If you are happy with your offer, complete the primary acceptance/refusal form. A pink copy of the form is enclosed with your offer letter.
Return the form to the school by 16 May 2017.
If you are unhappy with the offer
We suggest that you visit the school you have been offered to find out more about it.
If you are still unhappy you can put your child on the waiting list or make an appeal for any of the schools you applied for. You can do either or both for the same school or for different schools. For example, you can appeal for one school and put your child on the waiting list for another.
We recommend that you still accept the place your child has been offered.
This will not affect your waiting list position or your appeal. It will guarantee your child has a school place if no places become available or if your appeal is unsuccessful. If the waiting list or appeal are successful you must remember to tell the school you were originally offered that you no longer want the place.
Appeals
Waiting lists
To add your child's name to a waiting list you will need to complete the primary waiting list form and return it to us by 15 May 2017.
If you weren't offered any of the schools you applied for
This may be because:
your child was not eligible for the school

there were more applications than spaces available so the school used its

oversubscription criteria

to prioritise which children to offer places to.
In these cases we must offer your child a place at another school. This will usually be the nearest school to your home with available places.
Places are allocated according to the authority's published criteria which are, in priority order:
• Parental wishes.
• Current family association ie. a sibling in the infant school at the time of entry.
• Health reasons (for which a medical certificate may be required).
• Nearness of the child's home and ease of access to school.
Pupils transferring into the school are admitted using the same criteria.Children who are above the statutory age and are seeking a place in the school may be admitted at any time provided a place exists within the appropriate year group.
Please do not hesitate to contact the school office should you have any questions or queries with regard to this matter.
Our policy can be viewed by clicking here.
Kent County Councils Admissions Guidance for Sept 2017 can be found here. This book has been produced to help you apply for a place for your child in a primary school.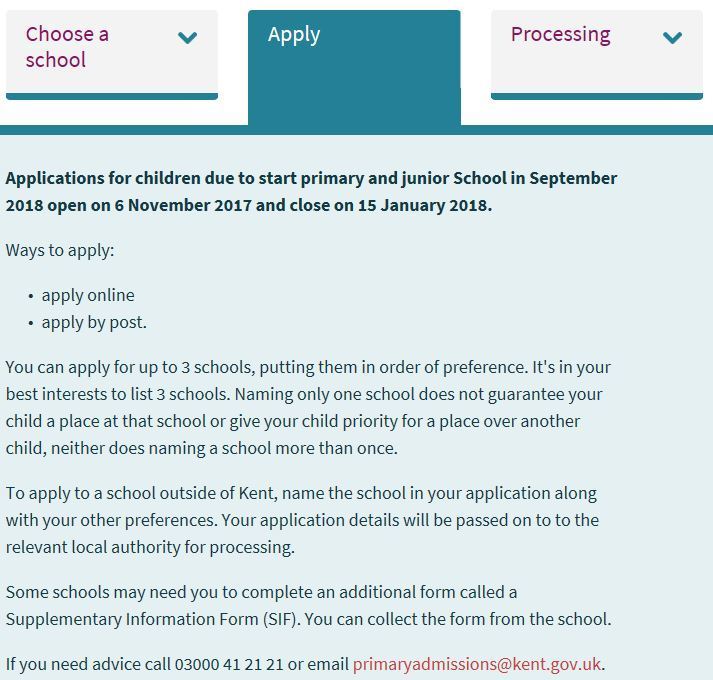 KCC Contact details are as follows;
The Admissions and Transport Office is based at:
Sessions House, County Hall,
Maidstone, Kent ME14 1XQ
The telephone number for Kent County Council's Contact Centre: 03000 41 21 21, and they can put you through to the Primary Admissions Team or the Transport Team.
You can e-mail the Admissions Team on: primaryadmissions@kent.gov.uk
Please note: Reception and Junior Common Application Forms will not normally be accepted if faxed to Kent County Council.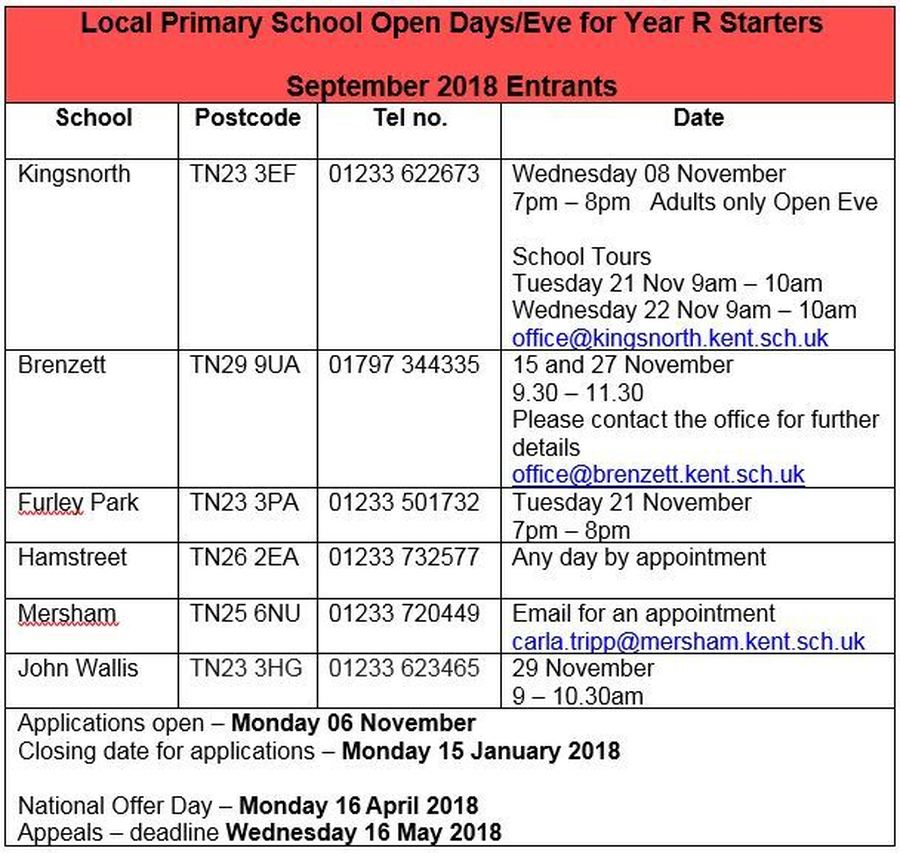 Useful dates
September 2017

Information on Primary Admissions available from www.kent.gov.uk.


September/October/November 2017

Schools hold open evenings/ afternoons
See above- when available

06 November 2017

Application open

Offers of school places sent out/available online

See below.
We will process applications between 15 January and 15 April 2018.
Applications will close on 15 January 2018 for children due to start primary and junior school in September 2018. If you miss the deadline please email primaryadmissions@kent.gov.uk.
If you apply online we will email you on 16 April 2018 after 4pm to tell you which school you have been offered. We cannot guarantee the exact time you will receive your email, this will depend on your email service provider.
You can also log in from 5pm on 16 April 2018 to view your offer.
If you apply by post we will send your offer by first class post on 16 April 2018. Royal Mail no longer guarantees next day delivery on first class post. Please wait 3 working days for your letter to arrive before contacting us.
For advice call 03000 41 21 21 or email kentonlineadmissions@kent.gov.uk.
Find out what to do after you get your offer.
Frequently asked questions:
About Summer-born children
Children born between 1 April and 31 August are sometimes referred to as summer born children. They have the same right to defer entry as any other child. This means they must start school at the beginning of the April term if they wish to keep their offer. Where parents wish for their summer born child to defer entry until the start of Year 1, they must refuse their offered place, which may be offered to a different child, and then reapply through the In Year process during the last month of reception year.
For your child to start reception year in the following September, a full year after they were first entitled to start, you will need agreement from the admissions authority of the school. This is because a new application for a later admissions round would be needed for your child to be considered for a place to be taught outside of their age group and with a younger group of children. The admissions authority will make its decision taking into account the school admissions code and the advice of the headteacher.
To request admission to reception year outside of the normal age group, you should contact the Headteacher of each preferred school as early as possible during the application period for that child's date of birth. This will allow the school and admissions authority enough time to make a decision before the closing date.
You are not expected to provide evidence to support your request to defer your application, but where provided, it must be specific to the child in question. This might include medical or Educational Psychologist reports. There is no legal requirement for this medical or educational evidence to be secured from an appropriate professional, but failure to provide it may impede a school's ability to agree to defer admission.
You are required to complete an application for the normal point of entry at the same time, in case your request is declined. This application can be cancelled if the school agrees to accept your request for deferred entry into reception year the following year.
Deferred applications must be made by completing a Primary Common Application Form (RCAF) (PDF, 62.9 KB) to the local authority, with written confirmation from each named school attached. Deferred applications will be processed in the same way as all applications in the following admissions round, and offers will be made in accordance with each school's over subscription criteria.